Make complex finance projects controllable with the help of OKR (Objectives and Key Results) and give them structure and commitment.​
Organize your finance projects with Draxinger & Lentz.​
Make complex finance projects controllable with the help of OKR (Objectives and Key Results) and give them structure and commitment.​
Organize your finance projects with Draxinger & Lentz.
Increasing your project success through OKR
Due to the complexity and long time horizon, it is often not possible to plan the objectives and progress of major financial projects in detail right up to the end. It is also difficult to estimate the resources required and available for the individual project steps in the long term. This increases the risk of delays in the project process, missing the targets or the failure of the entire project. Particularly distributed teams are faced with the challenge of creating transparency in projects and integrating resources as needed. OKR helps you to master this project challenge.
Our approach for your project success
Identification of financial projects with additional structuring requirements​
OKR is always suitable where objectives are to be implemented in the organization. OKR is not only suitable for strategy implementation but also for project management. In a business environment characterized by volatility, uncertainty, complexity and ambiguity, flexibility and innovation become more important than ever. OKR enables management to react agile to changing environmental conditions. Especially complex and long-running financial projects need to be readjusted in this environment.​
Analysis of value-adding applications of OKR in your financial projects​
In OKR, concrete and essential goals (Objectives) are defined. These Objectives should be defined in such a way that they are ambitious, qualitative, scheduled and finally realizable by operative teams. To ensure that they are effectively pursued, the individual Objectives are linked to corresponding results (Key Results), which can be used to determine whether the Objectives have been achieved. It is important that these Key Results are measurable and quantifiable, achievable, objective and understandable.
Introduction of OKR in your finance project
OKRs can be defined in three-month cycles, for example, and thus enable permanent adjustment toward strategic goal achievement. They focus on both the "what" (Objectives) and the "how" (Key Results). OKR is not only thought of top-down, but is also developed at the respective level, taking into account the strategic relevance. With our expertise we help you to select the right Objectives and Key Results for your project and to establish the OKR approach in your organization as an effective management tool.
Training your employees in the use of OKR​
When formulating the Objectives and Key Results, all project participants should be involved. This increases the culture of responsibility with regard to the project. Draxinger & Lentz supports you in this phase by providing the necessary knowledge.
An example of our work for clients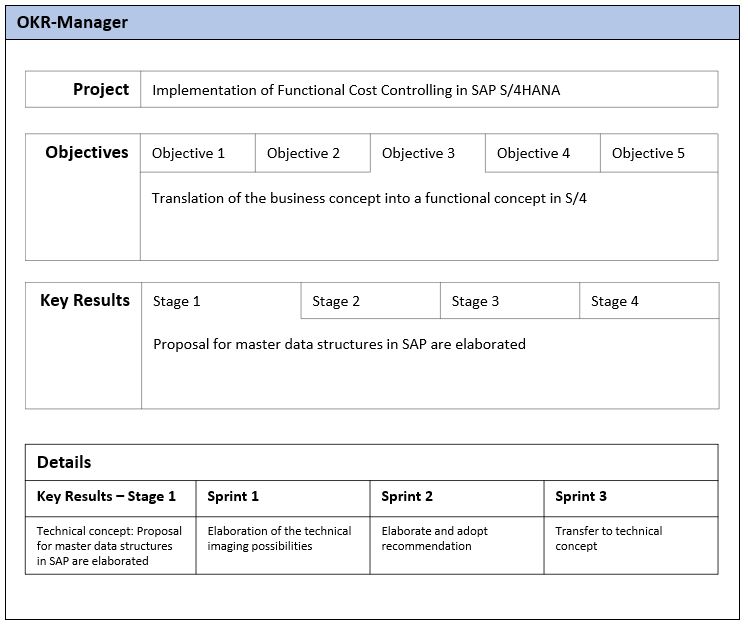 SAP S/4HANA implementation project​
By using OKR, we were able to successfully support our customer in the implementation of a functional cost controlling in SAP S/4HANA.
Following the complexity of the project, we first divided the project into several Objectives. Objective 3, for example, is the translation of the business concept into a functional concept in S/4HANA.
To quantify and measure the achievement of Objectives, Key Results for Stages 1 – 4 were formulated for each Objective, with each Stage corresponding to a 3-month cycle. These Key Results were further subdivided into three one-month sprints within the individual stages. This gave the project a time structure and commitment.
For the above-mentioned Objective, the first Key Result was that a proposal for master data structures in SAP was elaborated. To achieve this, the technical imaging possibilities were to be worked out in the first sprint, recommendations were to be drawn up and adopted in sprint 2, and the transfer to the technical concept was to take place in sprint 3.
Get in touch for more information
We would be happy to discuss an initiative to introduce OKR with you on a non-binding basis.​
Draxinger & Lentz supports you in the use of OKR in your finance projects: from the identification and analysis of possible starting points and the provision of the necessary know-how to the introduction and subsequent project support. The success of your finance project is always in the foreground for us.​
Read further insights on this topic from our Blog