Why ESG should not be treated as a sidebar in corporate management
Nowadays it is widely recognized that bearing responsibility for environmental and social aspects of a company is important. But with the flood of information many leaders are overwhelmed. How do "Corporate Social Responsibility" or "Environmental Social Governance" work and why should sustainable practices be implemented to businesses? First, one should take a look at these two terms to understand the difference between them.
What is the difference between CSR and ESG?
ESG is the evaluation of corporate responsibility in the areas of environment, society and corporate governance, as well as the voluntary contribution of business to sustainable development that goes beyond legal requirements. It is also used by institutional investors to assess the condition of an asset before investment. Environmental criteria could be climate strategies and scenarios, resource management as well as the share of renewable energy sources. Social criteria could be respect for human rights, prohibition of child & forced labor, equal opportunities and diversity. Lastly, to get a better understanding of governance criteria, there are anti-corruption measures, combating anti-competitive practices and compensation.
"While CSR holds businesses accountable for their social commitments in a qualitative manner, ESG helps measure or quantify such social efforts."[1] The focus of CSR is on strengthening the brand. It aims to ease the customer's purchasing decision by making them feel good about buying a sustainable product even if it sometimes is not as green as it seems to be. "Doing good" and "avoiding bad" are two terms often mentioned in connection with CSR. One is aimed at voluntary activities by companies that adopt their own set of rules. The other refers to the avoidance of misconduct within the company and along the value chains.
Why does environmental and social responsibility matter?
The objective of the part of the global community that holds itself accountable to the Paris Agreement is to limit global warming due to climate change to below 2°C – and preferably to 1.5°C. To achieve this goal, the per capita emissions of each person must be limited to a global average of less than one ton of CO2 equivalents per year.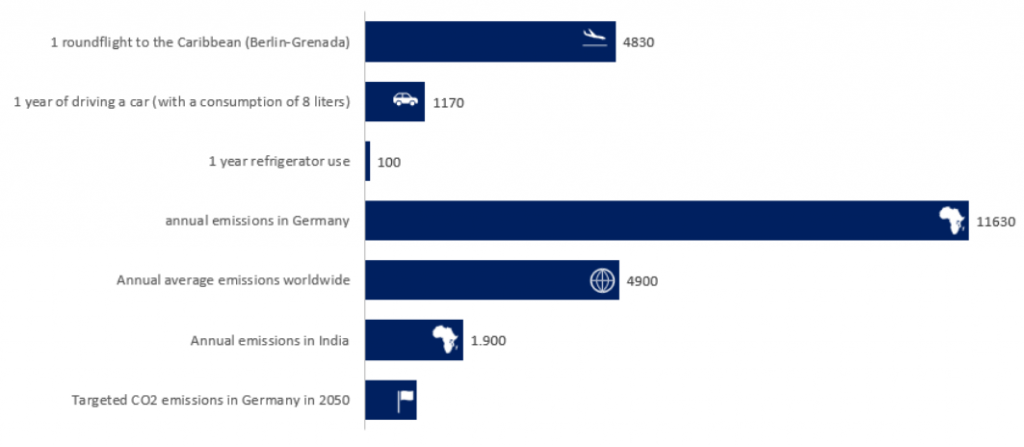 However, a look at the actual figures reveals that there is a significant discrepancy between the required amount and the actual emissions of CO2 equivalents in a developed lifestyle, the per capita emissions in Germany are over six times as high as in the developing country India. Only one roundtrip flight from Germany to the Caribbean exceeds the ton of CO2 equivalents many times over. It means that particularly countries with a high volume of emissions, like Germany, must reduce them enormously in order to meet the goals of the Paris Agreement.
Another aspect is the proportion of the industry and energy sector in greenhouse gas emissions which combined are responsible for more than half of the worldwide emissions.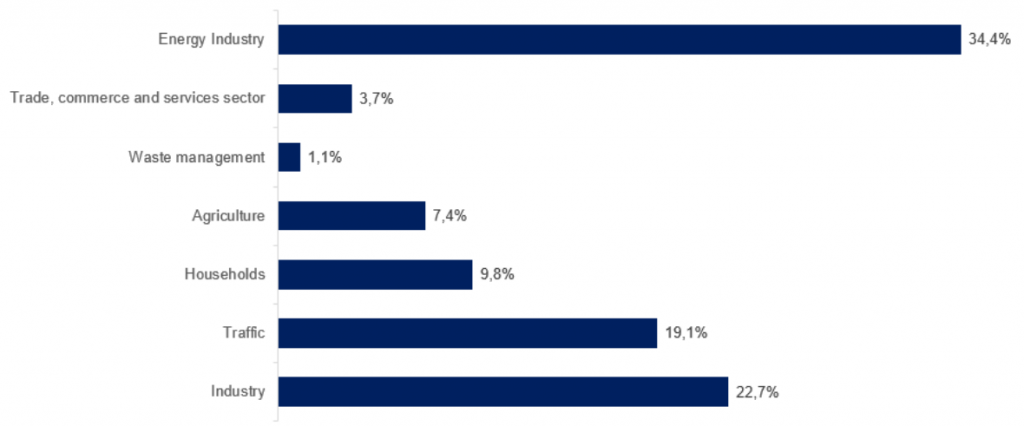 To remain competitive in the future, companies in these sectors have to actively manage their impact on the environment. A sustainable production leads to a decrease in energy consumption and will have a positive impact on the reputation as well as making companies more attractive to potential employees and investors.
ESG can lead to an increase in employee retention, morale and productivity
ESG and CSR do not only have a positive impact on the image and reputation of companies but also on existing and potential employees and investors. That cultural and social focus can lead to an increase in employee retention, morale, and productivity. It can also help to attract and retain top talent through equitable employment policies and by reducing costs related to high turnover rates and subsequent induction training. In addition to that, it illustrates a company's identification and quantification of its risks and opportunities and highlights the ethics of a company. ESG can also be financially beneficial by reducing costs, e.g. through eliminating waste and optimizing resource management. Moreover, key performance indicators can be set to measure procedures or policies in the company that contribute to reach ESG goals.
ESG and financial key figures should not be reported separately
Nevertheless, ESG is still often treated as a sidebar in many businesses and reported separately from financial reporting. In contrast, the quarterly earnings call is held regularly and given much more attention even if it's only a short term view at a company's financial situation. Instead, ESG should be included in those regular meetings because it is a long-term investment in employees, research, development, and sustainability which will have direct, material effects on how well companies succeed in the long run.
However, businesses still have issues with implementing ESG because it's mostly reported through other channels, not requiring the same level of analysis as financial reports. Besides that, there is less public awareness about the importance of ESG reporting. Success and profitability of a company are still mostly connected with financial figures not taking into consideration that other, non-financial aspects might have a bigger impact in the long run. Self-reflection can hardly be found in such reports. Negative effects are not reported, nor are problems and challenges. Sustainability is a question of inner attitude. If it is only practiced because someone says so, not much will improve.
How a law accelerates rethinking on environmental and social responsibility
Besides all the positive aspects that speak in favor of implementing ESG, the European Commission passed the "CSR Directive Implementation Law" in 2017. It aims to increase transparency about environmental and social aspects in companies and contains information about environmental, social and employee concerns, respect for human rights and combating corruption as well as bribery. The law requires companies with more than 500 employees and publicly traded companies to report on their social responsibility efforts.
The greatest impediment with implementing CSR is the lack of a uniform standard and therefore a poor comparability between organisations and branches. For example: Volkswagen calculates that a car is driven about 200,000 km over its entire lifetime, while BMW calculates with only 150,000 km. That leads to different footprint calculations and thereby various estimates of CO2 emissions.
The EU Commission published a proposal to amend the CSR Directive with the aim to increase the transparency about sustainable aspects. The directive aims at a greater uniformity through new, binding standards for sustainability reporting, a mandatory inclusion of sustainability report in management reports, making it as important as the financial reporting. Moreover, management will have to bear responsibility actively and demonstrably for sustainability reporting and audits of sustainability reports will be mandatory. Now that the amends make the law more restrictive, more companies will be affected by the reporting obligation. On top of that, all companies listed on a regulated market in the EU (except micro-enterprises), large, non-capital-market-oriented companies, most banks and insurance companies as well as all companies with more than 250 employees will be affected by the duty.
How the Balanced Scorecard can help overcome the limitations of different reportings
In order to double down on ESG efforts, companies need tools that make it simple to implement, steer and track their efforts. Companies must overcome the limitations of their accounting and control systems which oftentimes focus mainly on financial results. The Balanced Scorecard (BSC) overcomes these limitations by using two main tools: the scorecard itself, which provides a framework for non-financial performance indicators in addition to the traditional financial ones. The strategy map enables a visual representation between the multiple and interrelated strategic goals of a company. Many businesses deploy these tools to improve their own performance or to achieve alignment across organizational barriers. Strategy maps and scorecards describe opportunity linkages within an organization and depict the stages through which end results are achieved. Some companies have adjusted their scorecards to reflect their interest in pursuing triple-bottom-line strategies that include economic, environmental and social performance. The Balanced Scorecard was originally developed to describe and implement a single organization's strategy, now it needs to be adapted to reflect multi-stakeholder strategies for triple bottom line performance.
Approaches to make sustainability reporting measurable
There are different standards and systems to create a sustainability report. The most popular one is the Greenhouse Gas Protocol which is available free of charge. It is particularly suitable for companies that want to prepare a Greenhouse Gas balance sheet for the first time without much prior knowledge.
SAP has also responded to this issue and launched a Carbon Emissions Accounting System to address Climate Change. CO2 emissions can be recorded and displayed for a company's products by production site, profit center, or cost center. The goal is transparency regarding all greenhouse gas emissions in the value chain across industries, borders, products and services.
These qualitative (cultural) and quantitative (financial) benefits illustrate the importance of social considerations to all aspects of our business. Finally, we can see that ESG and CSR is not only about the company image but also about creating a sustainable business environment which offers benefits to companies as employers and trade partners as well as making businesses more attractive to existing and potential stakeholders and shareholders.
____________________________________________________________
[1] Three Reasons Why CSR And ESG Matter To Businesses (forbes.com)
If you want to get more information on ESG and its implementation, feel free to contact Fabian Winckler (fabian.winckler@draxingerlentz.de).