Profit Center Accounting in SAP S/4HANA
Profit Center Accounting maps the strategy and responsibilities in the IT-system

Due to the development of digitalisation, controlling increasingly has an important role to ensure and optimize the achievement of organizational goals in the company. For this reason, controlling is one of the most important management functions in the company. Profit Center Accounting is a powerful tool for companies to depict their strategy and the subsequent management responsibilities in the IT-landscape. Hence, Profit Center Accounting supports the strategic reorganisation of companies in a dynamic way and therefore, helps businesses to succeed in a VUCA world.
In the SAP environment, Profit Centers make management accountable by consolidating all associated P&L- and balance sheet bookings in plan and actual. A Profit Center is a management-oriented organisational unit in accounting, primarily for internal controlling matters. Since all P&L relevant bookings are assigned to a Profit Center, the financial aspects of a responsibility area are visible. For instance, business areas such as marketing or sales can be Profit Centers.
One benefit of Profit Center Accounting is that not only P&L transactions, but also balance sheet transactions can be assigned to the corresponding Profit Centers. This also means that P&L and balance sheet KPIs can be created. Profit Centers are operated independently within the company and are used to measure the actual performance of the individual areas of responsibility. In this context, the use of an accountability matrix has proven its worth in implementation projects. This matrix ensures the unambiguous assignment of KPIs that are relevant to the corporate strategy within the management structure.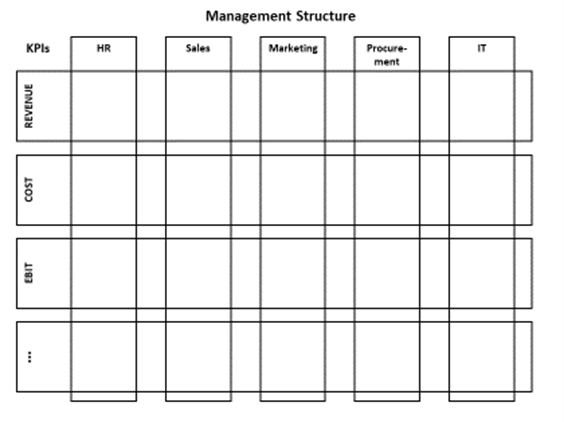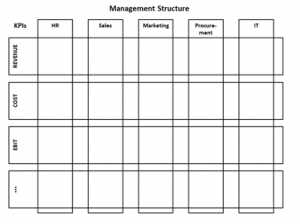 Figure 1: Exemplary Accountability Matrix

Profit Centers in SAP S/4HANA link controlling with financial accounting
Profit Center Accounting provides an integrated view of internal and external accounting and is therefore the optimal basis for mapping management responsibilities. This creates a clear and consistent database that is trustworthy and makes it simple for management to link individual responsibilities to overall company performance.
From a technical point of view, Profit Center Accounting in SAP is account-based. This means, the values get updated in a Profit Center based on individual general ledger accounts from operational chart of account. The general ledger account is assigned to an account type, such as a balance sheet account, nonoperating expenses or income account, primary costs or revenue account, or secondary costs account. These account types determine the usage of each general ledger account in financial accounting and controlling. In addition, Profit Centers can be derived from various account assignment objects.
In SAP S/4HANA the Profit Center Accounting is mapped in the Universal Journal by default which leads to a more harmonized view on the company's financial data. Compared to the former SAP ECC, Profit Centers are now an account assignment object in the document and have the same position as an account while in SAP ECC Profit Center Accounting was an own module with own tables and statistical accounting.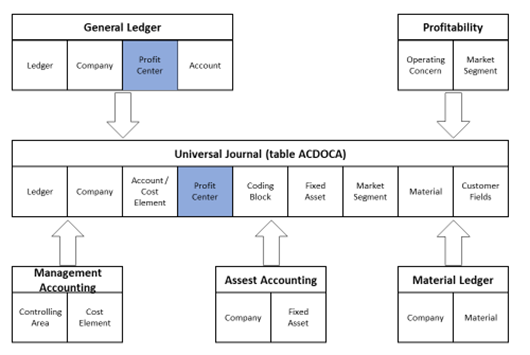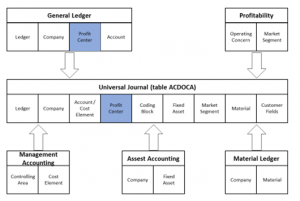 Figure 2: Integration of Profit Center Accounting to the Universal Journal

Profit Centers are now no longer a pure controlling application but a component of the financial accounting and play an essential role in the segment reporting. In financial accounting, postings are made to segments which can be derived from the Profit Centers. The former standard procedure to reorganise Profit Centers and their documents in SAP ECC is currently not applicable in S/4HANA. This includes mainly Profit Center reassignment to new objects (material, orders, projects etc.).
The structure of the Profit Centers should be linked to the legal organisation of the company and the Accountability Matrix.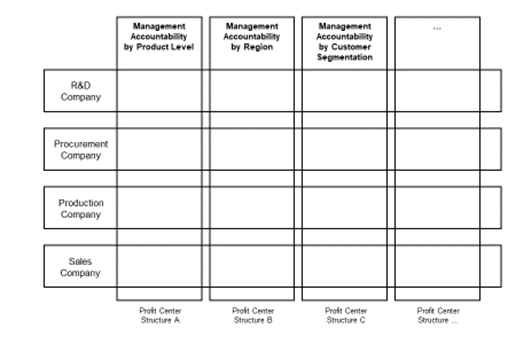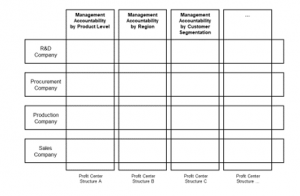 Figure 3: Profit Center Structure based on the Accountability Matrix

Profit Center planning and reporting are central management capabilities to set and measure objectives in an effective and efficient manner.
The structure of the planning should be consistent with the structure of the Profit Centers, as it can transform the strategy into clear goals and budgets per area of responsibility. In SAP there are a several possibilities for Profit Center planning, e.g. revenue plan, cost plan and production plan. However, the planning process should be set up correctly to create the right information and use the technical conditions optimally and efficiently. Profit Center planning in S/4HANA is mapped in the Universal Journal. Unfortunately, the Universal Journal is not designed for planning issues. Thus, it is necessary to conceive the Profit Center Accounting to the own requirements. Planning in S/4 can be done by using different approaches, e.g., SAP BPC, SAP BW, or the SAP Analytics Cloud as a web-based platform. Profit Center planning is essential for managers to set goals for revenue and cost to manage their Profit Centers effectively.
Besides, to comprehensively account the responsibilities, an integrated reporting of plan, actual and resulting deviations has to be established. This makes it possible to understand what each area of responsibility should have achieved, what it has achieved and what the reasons for deviations are. Therefore, plan and actual must match and reporting must be based on sufficient KPIs. Moreover, flexible hierarchies allow the mapping of additional management structures.
Additionally, accurate Profit Center reporting is crucial for managers to understand a Profit Center's competitiveness. The Profit Center hierarchy in SAP and alternate hierarchies help an enterprise to align with its responsible accounting needs in several ways.
Another essential point is to set up a predictive control system (forecasting) based on the areas of responsibility by using the framework, information, and technical opportunities. This ensures that decision-makers must deal with and quantify the future. If done correctly, this can be the base for the planning process and therefore reduce its workload drastically. For instance, the forecast for the end of 2022 can be used as the starting point for the planning of the same year.
Challenges of Profit Center Accounting in S/4HANA
Profit Center Accounting must be set up correctly to achieve its goals and to remain flexible at the same time. Otherwise, it is rigid and requires a lot of change within the company.
Since the Profit Center Accounting in S/4 is now stronger connected to the financial accounting, companies are less flexible when using Profit Center Accounting compared to the former SAP ECC. Also, the segment reorganisation that allows the reassignment of existing structures within the Profit Center Accounting is now more complex in S/4HANA. Therefore, if companies want to upgrade to S/4HANA, managers need to ensure that the strategy is mapped from scratch because a subsequent restructuring is time-consuming and costly.
Besides, planning, reporting and forecast processes must be aligned to the Profit Center Accounting requirements in order to exploit all advantages.
Ensure a correct setup for efficient use
Conclusively, Profit Center Accounting in SAP S/4HANA is more powerful than ever for internal company steering. The corporate strategy and its areas of responsibility can be very well anchored in the ERP. Changes from SAP ECC to SAP S/4 have made Profit Center Accounting a component of financial accounting and consequently, more closely integrated into the financial reporting system. Therefore, decision-makers must ensure that Profit Center Accounting is set up correctly from the beginning to use it as a powerful tool and avoid emerging problems.
If you want to get more information on Profit Center Accounting in SAP S/4HANA,feel free to contact Gerhard Lentz (gerhard.lentz@draxingerlentz.de).